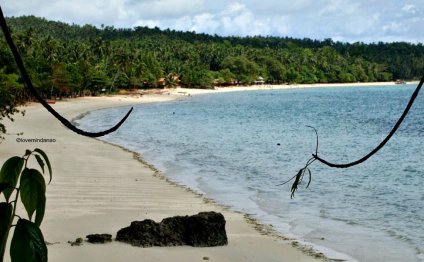 Philippines Beach Destinations
Because of the summer heat, people choose to go to Tagaytay – the breeze and tourist destinations are big factors of its tourism. Plus, it's convenient and easy to get there given its proximity to Metro Manila as compared to other cool places. Through the years, Tagaytay City, Cavite has reinvented itself to attract tourists. Taal Lake is best viewed in Tagaytay while you're sipping hot bulalo or eating freshly-picked pineapples. Bring the whole family to Tagaytay and they'll have a great time in its cool climate and breathtaking view.
How to get there: Take a bus from the MMDA Southwest Integrated Bus Terminal at Coastal Mall to Nasugbu or Tagaytay; travel time is around 1-2 hours.
Budget:
Fare: P80/head
Laiya Aplaya is a long stretch of fine sand beaches in San Juan, Batangas. There you can find affordable beach resort accommodations, with packages that include food, lodging and tours. Corkage fees apply should you want to bring in food and drink from outside.
How to get there: Take a bus to Lipa City from terminals at Cubao or Buendia which will take you around 1.5 to 2 hours for around. Ride a jeepney to San Juan. (Alternate: Take a direct bus ride to San Juan from Cubao terminal). When you reach the market, take another jeep to Laiya.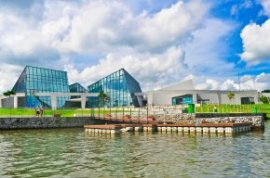 Budget:
Fare: P350/head
Food and Accommodation: 500/head
Have you ever heard about Pundaquit's Nagsasa Cove, Silanguin Cove, Anawangin Cove or Talisayin Cove? It is said that their coasts were formed from the ashes that Mount Pinatubo spewed when it erupted. There's a New Zealand feel when you're in the coves of Pundaquit. You can enjoy the view, the beach, and if you're the adventurous type: the trekking, as it is surrounded by majestic mountain ranges. Fishing is also a good idea as San Antonio's waters are rich.
Bring a tent and pack food if you feel up to roughing it. If you don't feel up to roughing it, you can get a house and have an actual cookout – although the prices might be steep. You can also fish and cook later in the fire. Bring as much food as possible because it's costly to buy food in the beach-side stores.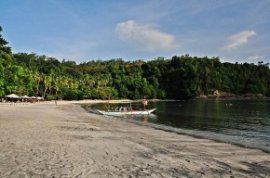 How to get there: Ride a bus from Cubao or Monumento to Iba or Sta. Cruz, Zambales, get off at San Antionio Public Market that will take you around 4 hours. Take a tricycle to Pundaquit for P30 that will take you around 10-15 minutes. When you reach Pundaquit, there are boat rides to where you want to go: Nagsasa Cove, Silanguin Cove, Anawangin Cove, Talisayin Cove.
Budget:
Fare: P700/head
Food and Accommodation: FREE/Bring your own food and tent, please?
Calatagan's icon is the Cape Santiago Lighthouse. Built in 1890, it is one of the oldest in the Philippines. You can get a tour before heading to the beaches to make the most out of your stay. Speaking of, the beaches are usually white, rocky, and contain all manner of life. Sea urchins and sea cucumbers make a home in these waters, so be sure to bring surf shoes if you plan on swimming or snorkeling. The resorts of Calatagan offer transient houses where big groups can appreciate a home away from home.
How to get there: There are vans from EDSA-Taft straight to Calatagan for a 3-4 hour ride.
Budget:
Fare: P400/head
Accommodation: P150/head
Food: P200/head (Buy food in the Calatagan Market and cook at your chosen transient home)
Nuvali is a fairly new spot in Santa Rosa, Laguna. Bring your kids for fish feeding, water taxi ride biking and food trips. There are few restaurants in Nuvali that serve great food. But its true highlight is the Nuvali Republic Wakepark, where you can go paddleboarding and wakeboarding.
How to get there: There are vans from EDSA-Starmall or Alabang Town Center. Rides from Makati City can be found behind the Intercontinental Hotel, and go straight to Balibago Terminal. From there, there are trips directly to Nuvali.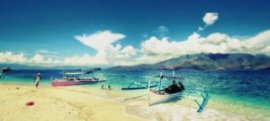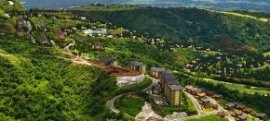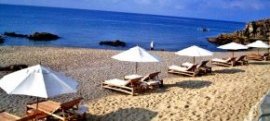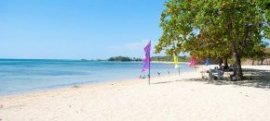 Source: www.moneymax.ph
RELATED VIDEO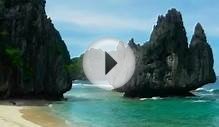 Philippine Best Beaches | Travel Destination Philippines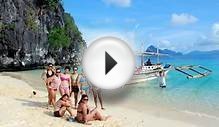 Best Beaches in Palawan | Travel Destination Philippines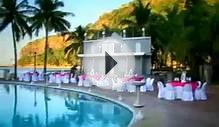 Philippine Beach Wedding Destination - Caylabne Bay Resort
Share this Post
Related posts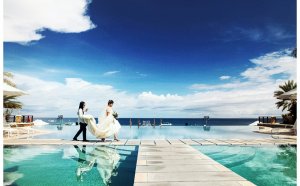 MAY 27, 2022
Polaris Beach and Dive Resort is located on Cabilao Island right in the heart of the Visayas. The destination offers a great…
Read More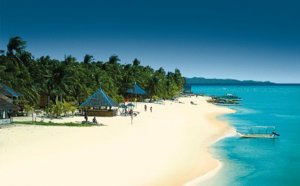 MAY 27, 2022
Cebu is one of over seven thousand islands in the Republic of the Philippines. Cebu City is the provincial capital; the metropolitan…
Read More